FCL-CONTAINER SPECIFICATIONS
Add time:2021-07-03 19:24:00
CONTAINER SPECIFICATIONS

At CARGODIRECT LOGISTICS, we take the transportation of your cargo personally and we offer customers a vast and modern fleet of containers. From straightforward dry boxes to garmentainers to state-of-the-art controlled atmosphere reefers, We can book the size and type of box to suit your needs. Our local offices are happy to advise you on which is the best container for your cargo.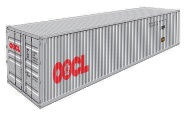 General purpose

High cube

Refrigerated

Open top

Flatracks

Garmentainers

Super rack

Container Stuffing

Correct container stuffing allows you to pack more in a container and transport your cargo more safely. CARGODIRECT LOGISTICS can advise you on suitable procedures to ensure you choose the most effective stuffing method. More details below:
Give your cargo the best treatment, the CARGODIRECT LOGISTICS treatment and ensure it arrives in perfect condition.

Garmentainers
Please follow the below link for the detail weight of the GOH Bars.